---
They Create A Comfortable Environment for You and Your Care
100% covering the rear side window then provides maximum shading protection for you and your family, as well as lowering the temperature in the car.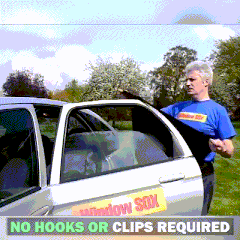 When you go out or on the trip, you can better enjoying the music, movies, video games, reading and food, you and your children, parents, friends, pets can be more relaxed, more comfortable. Even when parked!


Car sun protection with durable material, the rear window sun shade made of high quality, flexible and breathable nylon mesh, safe from toxins and projectile objects; You can roll on the window and enjoy the Breeze from the outside while preventing sunlight. Cool drafty and comfortable.

UV protection: double parasol can effectively protect your family and pets from harsh light and harmful UV rays; 🚕The car sun protection can not only provide shade, but also offer you a private moment. You can rest or enjoy the movie, nobody will disturb you.

100% window covering: Made of breathable mesh material because they play the role of the window to enjoy the breeze from the outside and the view to the side at the same time while preventing sunlight even without worrying about insects flying in or wandering eyes.